about-me
I fell in love with nixie tubes in 2011. Two years later, I had my first working tubes.
My name is Dalibor Farny, I live in Czech Republic. I was always into hand making things, especially electronics. I started programming when I was 15, later went to technical high school and university (SW engineering), where I made my master's degree. I started two small businesses during university studies, e-shop selling outdoor equipment and free classifieds website. The latter one was quite successful and later allowed me to finance my nixie tube exploration.
I love old things. Old cars, old houses, old electronics.. I am fascinated by the fact that those things have survived tens, hundreds of years and some are still serving their original purpose while people who made them passed away long time ago. And this is the key idea of my business – I want to produce robust, durable objects that people will cherish long time after I won't be there!
Our Story
All the information below are being written as a kind of a diary. All exactly as it happened, presented as a bit dry facts 😉
We are working on new website with more details – stay tuned!
Summer 2017: Summer 2017 was mainly about improving reliability of our glass-to-metal seals. With current manufacturing techniques, we experienced 2.3% tubes to fail within 6 months from manufacture. Whole process of manufacture of glass to metal seals was revisioned, starting with material selection, quality control, leak checking etc.. The last batch of 400 tubes shows 0% failure rate so far.
Spring 2017: The Zen Nixie Clock manufacture is running at steady, but slow pace. We shipped over 100 clocks and received wonderful feedback from customers!
A very high end clock by Frank Buchwald was released by M.A.D. Gallery, its name is Nixie Machine II and it features our R|Z568M nixie tubes. The electronics was also developed in our lab, it has all the neat features you know from Zen clock.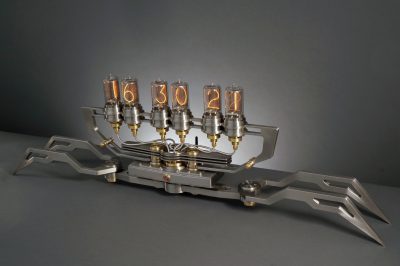 December 2016: New orders for Zen Nixie Clocks and our nixie tubes are still coming at steady pace. Its clear we will need more room and help. I am renting three new rooms at the castle, doubling the total area to 250 square meters (2700 square feet). I too a risk and also hired a skilled lady (Katerina) to train her to glassblower position. We purchased a set for etching metal sheets to be able to do prototypes and development samples very fast. To speed up production, we got a fully automatic laboratory washer for washing tube parts prior to assembly instead of doing it manually.
November 2016: We still don't have anodized stands for our clocks, our supplier tried four batches with horrible results. I am starting to be sceptical and search for other options of surface treatment to achieve a look like anodizing. Success, local company does powder coating with fine texture very well. We produce first clocks with black powder coated stands and deliver it to customers who accept it as a replacement for anodizing.
October 2016: The video documentary covering the manufacture of nixie tube at our lab is finished and published on Youtube. In few weeks, with 500k+ views, it becomes the most popular vacuum tube related video published on Youtube. We get attention of customers beyond the group of nixie tube geeks which brings us a lot of orders. Actually, the video is so far the most important way how to promote our work. The stands for first Zen clock batch are not yet ready, getting bad news from manufacturer. I am changing supplier of raw material and also machining supplier.
September 2016: We got 10 orders for Zen clocks immediately, I am taking more orders with uncertain delivery time. The production of tubes is running without issues, all other parts as well – except the aluminum stand. Our supplier is not able to achieve the same good results as in first prototyping batch. We need to order machining of new batch of stands, the shipping is delayed.
August 2016: Small prototype run of Zen Nixie Clock is finished. We have manufacturing processes set up and suppliers for all parts we dont produce ourselves. I opened pre-order possibility for the clock, limiting it to 10 pieces only to make sure the clocks will be manufactured ontime (in September) without delays.
Summer 2016: We have first Zen Nixie Clock boards among customers, collecting feedback, improving the firmware. One of the demands is for a case which would protect the tubes and provide a decent-looking way how to showcase the Zen clock. So I am designing a simple case with aluminum stand and glass cover.
June 2016: Tubes, tubes, tubes. We've just made R|Z568M with serial number #800, unbelievable! The most time consuming task for this month was to figure out software bugs in first revisions of the ZEN nixie clock.
May 2016: We are working on making the production of R|Z568M nixie tube more and more efficient, focus is also on little details. It turns out that hiring Monika was great decision, she learns fast and does great job. I also finished some interesting projects – a set of nixie tubes for a Clive Maxfield and his wonderful steampunk style clock. Another finished project is a Sturnus clock which was made together with Daniil Kondratyev under Glowguardian studio.
April 2016: First revision of the long-promised six tube clock board is out! I call it ZEN nixie clock, a calm and peaceful way of displaying time. One feature for all – it is connected to internet and all the settings (time zone, display effects) is possible to change real-time from a user account on our website. The time is also synced automatically from internet.
March 2016: I hired first regular employee (Monika), finally! Now I am able to hand over some repetitive tasks and devote myself more to development.. I also finished new pumping and filling station for my nixie tubes, this wil speed up the manufacture and also provide a bit more consistent results.
End of 2015: I rented new room in the castle, made it as a kind of clean room and moved entire process of tube manufacture into it. The process is now cleaner and well organized. I am spending a lot of time on building new pumping station which will achieve the same high vacuum levels as the old one, but will be much faster and easier to operate.
Summer 2015: I am making 100+ tubes as a replacements for the bad ones, ouch!
Spring 2015: Most frustrating part of the nixie project so far – my first customers reports failures of the early tubes (under S/N #200). This sends me back to lab and I spend months by testing individual materials, more gas pressures and gas mixtures. The cause is soon identified – improper curing procedure of ceramic adhesive inside the tube, uncured compound slowly outgas spoiling the gas inside the tube. The overal processing of the tube is re-engineered and since then on I go the way of ultimate over-enginnering of everything. Just to make sure I will not experience situation like this again.
February 2015: I had been quite time some watching amazing work of Berlin based designer Frank Buchwald – well known artist especially in industrial/steampunk field of art. When I saw his Nixie Machine he made for M.A.D. gallery, I simply had to meet him! And we actually started a collaborative project – stay tuned!
Beginning of 2015: It has been 3 years of very intensive work on nixie tubes now, 10+ hours every day, weekends included.. A goal for this year is clear – to separate all the nixie tubes endeavour to separate company and prove that it is able to cover the costs of development by sales of the tubes!
End of 2014: Emails from people all around the world start coming, there apparently is a demand for nixie tubes. I focus on simplifying of the manufacturing techniques to cut down the amount of time spent on a nixie tube so that I am able to offer reasonable price for customers. Current price settles on USD $175 per tube which covers the manufacturing time, shop rental and also keep some profit for another investments into equipment.
Summer 2014: The one-tube nixie clock is developed, I call it Solitube clock. I sell 20 pieces of the clocks mostly to friends who have been following my stubborn efforts for quite some time. I am receiving first feedback from customers, great! I also hired a part time coworker Karel, he helps me with vacuum stuff refurbishment and do some small tasks on the tubes.
Mid 2014: I think I am now ready to prepare first small batch of nixie tubes. I decide to design a one-tube nixie clock and find first customers who would help me to test the whole product – from the electronics to the nixie tube itself. The tubes that I make in this time differ slightly, definitely not ready for a 6-tube nixie clock – the differences would be visible immediately. I take on another room in the castle, another 65 square meters added to workshop.
Beginning of 2014: This period is mostly about refurbishing and selling of the neat vacuum stuff. I am able to buy many pieces for myself for reasonable price, so every cent earned goes back again to tube-making equipment. I am getting familiar with turbo pumps, roughing pumps, controllers, vacuum gauges, vacuum valves and all the other stuff. I am also building a device for activation of getters inside the nixie tubes, called flasher. This is the remaing tool to complete the whole production procedure of a nixie tube.
End of 2013: The garden shed starts to be too small for my stuff and I am soon going to move all the equipment for refurbishment from the company to my workshop. I have to find new room to rent. The closest place for rent is a castle from 17th century in neighboring village. The castle which is almost empty and for the same price as other places, but has unbeatable spirit, so it is clear!
I am moving the turbos and other stuff to my first rented room in the castle, my workshop area grows by 50 square meters to 85 total together with the garden shed.
Second half of 2013: Another crucial moment came to pass. I've just found an advertisement of vacuum oven for sale at local company.. I am calling there whether I can come and check it out. Jumping to car and heading to the company which deals with stuff bought in auctions from bancrupted companies.  What I see there takes my breath away – pallets full of modern vacuum equipment, tens of turbomolecular pumps, controllers, high vacuum gauges, valves, system components etc.. I immediately come up with idea to refurbish, test and sell the equpiment. It was first time I actually met a turbomolecular pump, however I was brave (or crazy) enough to offer the deal and we finally agreed.
Beginning of 2013: I am working on improvements of current nixie tube.  In the meantime, the ShanghaiTime clock is being exhibited in Shanghai Museum Of Glass together with other 19 glass art objects from Czech Republic. Visitors can vote for the most interesting project and the ShanghaiTime gets nice second prize!
October 2013: I work only on nixie tubes and the nixie clock I designed for the contest, 10-12 hours per day in average, weekends included. I dont remember anything but the shop from this month! After really intensive development, I made it! ShanghaiTime nixie clock. The first nixie clock with newly handmade nixie tubes!
September 2013: I made first prototype of real nixie tube, with proper inner structure and gas mixture. Only the glass bulb was a bit weird as I didn't have a proper glass by hand yet.. And I also found a glass-art contest that I would participate on!
July 2013: I got samples of the metal parts for the inner assembly, the quality absolutely exceptional! And after almost half year of building of the garden shed, I finally finished it! I started moving the stuff from the attic, 35 square meters of a room just for my equipment!
June 2013: One morning, I found an auction of a great industrial Heathway glass lathe on eBay. Great price (only £1.300), similar piece was offered on US eBay for $12.000 recently. I checked it and it all looked well. The only problem was that it was in England, 2000km from my shop – 800kg heavy machine!.. I decided to take a risk and bought it immediately. It turned out that the lathe comes from a cancelled university glass shop and the guy who sells it is the glassblower who worked on it. He said he will add a box of carbon inserts for tooling and some other stuff, great! So I paid it and started organizing a transport. It was pretty difficult, but finally, after tons of emails and calls, I found a small company that made it! They brought it and put down on the concrete block in my garden that I let made two years ago just for the case I will need a big machine.. There were no garden shed by the time they put it down.
May 2013: I started looking for a manufacturer for metal parts for the nixie tube inner assembly. I got a samples from local company (local companies are first to ask to as I want to support local business), but it was not good enough. Interesting was that most of the companies didn't even replied or didn't want to bother with your small order, sad. So there was no other way then to look for a supplier in Asia. I also started rebuilding my torch system to oxygen concentrators as an oxygen supply instead of liquid oxy in bottle.
March 2013: I finished the oven and struggled with the detector..
February 2013: I am working on new gas filling manifold, it should be able to supply neon and argon to nixie tubes in the future. I also made a test tube for experimenting with gas discharge. And when I finally made a neon bottle connector, I was able to use a homemade vacuum needle valve to fill a test tube with neon and enjoy nice warm neon glow, much better then argon! Shortly, I made first sealed tube with neon – I mark it "lab sample No.1", it was tested for leaks and still holds the vacuum and works perfectly!
December 2012: The new house is built and we are moving, I am leaving the cellar shop and building new one in our attic. The ceiling in the cellar was 170cm high, the attic is much smaller and skew, good place to be for someone 190cm tall 😉 I am building an oven for baking out the tubes.
October 2012: It took some time, but the helium leak detector is fully repaired and running! I also made another design for the glass lathe, v2.0.. Looking after newborn twins, two years old daughter and overseeing a building of our new house is a piece of cake, so I set up a new glassblowing torch with oxygen/gas manifold, some other torches, small glass saw, new spot welder (great one!), a chuck for the glass lathe and some other minor things.
July 2012: I got a bunch of old vacuum tubes and started to study their inner structure, seals and many more. One night, after a celebration of newborn twins with friends, I sat at the computer and found an auction for Alcatel ASM 51 helium leak detector, I was in very good mood so it didn't last long and it was on the way to me! This machine was one of the most important addition to my shop!
June 2012: I made first sealed argon glow tubes, without a helium leak detector and with cold air/gas flame (bad seal) so they lasted just a few hours until the gas leaked in and ruined them. But I still remember the feeling when I sealed them off and watched them glow! I also tried to melt the glass in microwave oven, not much good idea! And my wife gave a birth to our twins, three children to take care about 😉
April 2012: I made first experiments with a electric discharge in a gas (air). It was pretty amazing, so I bought argon to see what the noble gas will do! The HV power supplywas a must, so I build one! I also started making a glass lathe v1.0, never worked much well 🙁
May 2012 : A crucial thing happend – I was contacted by a Ron Soyland through my blog, skilled man who had been successfully making vacuum tubes at home for ten years by then. This was the most important benefit of my blog as Ron would willingly share many of all the knowledge I need for making my own tubes. We would more than 2.000 emails during 2012 and 2013!
March 2012: I discover secrets of different glass types, glass-to-metal seals, metals for sealing into glass etc. I decided to use borosilicate glass + tungsten. I also started buying first equimpent – air/gas torch, gas bottles.. I also buy a neat rotary vacuum pump (later found that it is contaminated by mercury), build a pirani vacuum gauge that I never practically used, build a spot welder that was also almost useless. And I also tried to make a high vacuum system using rubber hoses 😉 I based the shop in our cellar on a 4 square meters! One of the first things I bought was a metal lathe.
February 2012: I need tubes bigger than tiny IN-14, however buying six pieces of Z566M or similar means spending of around $250. Quite a lot. (!) Looking on the simple glass tube and metal structure inside, I got the idea of making nixie tubes myself. I thought I would just find a book with detailed description of how nixie tubes had been made. However, it turned out I was too naive – information about nixie tube manufacture are pretty scarce! But I didn't give up, after some time, I collected basic information and got idea of making them public. It was a difficult decision as it is natural to protect your know-how, but I eventually started to write a blog about my efforts to make nixie tubes at home.
December 2011: I ordered my first nixie tubes from eBay, small russian tubes IN-14,  this was actually my first physical encounter with vacuum tubes.
Year 2011: I discovered nixie tubes accidentally when browsing internet.